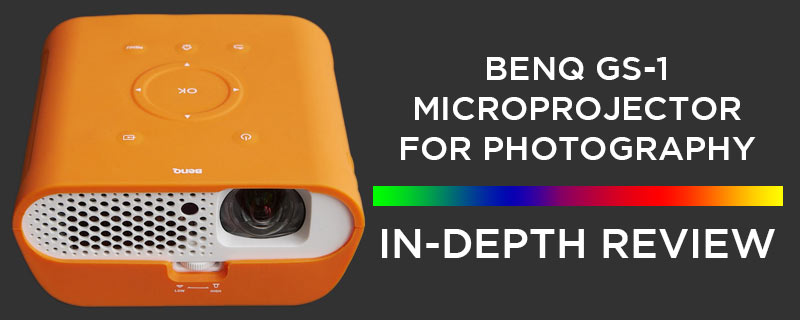 BenQ GS-1, small but powerful
Everyone who has attended a photography class knows what happens to projectors: the vast majority look very bad. A disaster. What an irony that happens in a photographic projection, huh?
An overview
Fixing that problem is easy: get a BenQ W1700 projector which has superb image quality, and both photos and videos look spectacular, as I already analyzed in detail. And I keep corroborating it after months of use with movies. The problem is that it's a big, heavy projector. It's perfect if you have it fixed in a classroom, but for an occasional workshop like the ones I often teach, things get complicated. This is where a portable projector comes in handy. Well, the GS-1 is an excellent choice.
The problem is that if the typical office projectors and presentations (which are the most common because they are the cheapest) have a very bad image quality for photographs and videos, a microprojector is even worse.
But BenQ has been demonstrating for a few years that they know how to do things very well and this GS-1 is a new demonstration. Do not expect a quality equivalent to that of the W1700, obviously, but clearly superior to the competition.
The first thing that surprises is the packaging, because instead of the typical box with polystyrene protections and each component in a compartment, inside there is only a travel case, and inside are all the elements perfectly placed to take on a trip.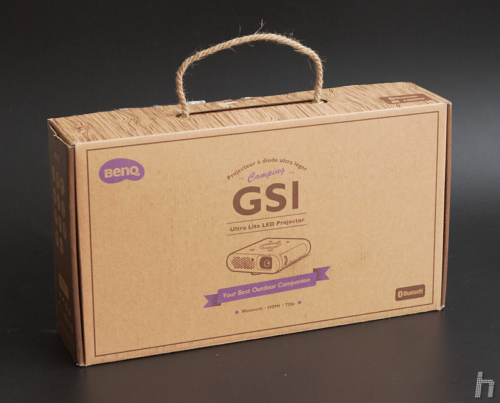 The projector is surprisingly small, as it actually fits in the palm of the hand. I'd say it fits in a coat pocket. It has a white rubbery finish that gives it a very pleasant touch, although I personally do not like these finishes very much because in the long term – at least where I live, in Barcelona – they deteriorate and become sticky, something that happens in all types of devices: car dashboards, gadgets, etc …
The current transformer has a size and weight according to the device, and is very small and light. But the most surprising thing is that with the GS-1 comes a (large) battery that measures almost the same as the projector, but is thinner. It gives an exemplary portability, as it lasts a maximum of 3 hours. True, it would not last a one-day workshop, but a conference or photo projection. As if that wasn't enough, you can buy other batteries and, watch out, you can do a hot change WITHOUT losing the image, thanks to a small battery built into the GS-1 itself.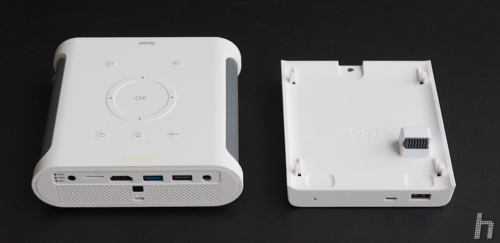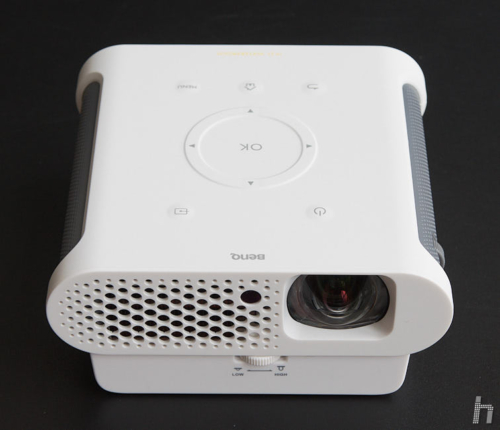 Even with the battery attached, the projector is still very small and light.
On the back you can see all the connections: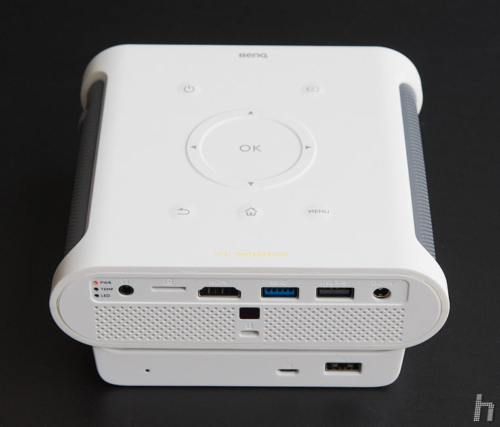 Beside the well-known HDMI (VGA is now completely obsolete) there are two USBs to directly connect pendrives or portable hard disks and to be able to read pictures and videos directly from there. There is also a headphone connection if you want to connect an external speaker or listen to it privately with headphones. The battery is charged from the projector, and has to be attached to it for this. Surprisingly, the battery has a USB connection, but not for pendrives, but so you can charge other gadgets with it. Great idea!
The GS-1 is a projector called a "camping" device and therefore comes with a very colorful orange rubber case, which protects it from the elements quite well.
The case is designed to protect the projector with the battery and can be put on or taken off, although not very easily. I imagine it's part of the protection, but it's very tight and the operation for putting over and taking off is a bit difficult. Once it is on, it does offer a very good protection (IPX1) that I imagine would allow it to withstand splashes of water and drinks easily.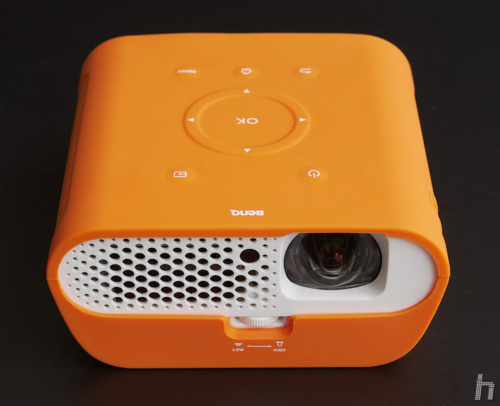 Finally, the remote control is simple, has the same finishes, and allows you to control the basic functions.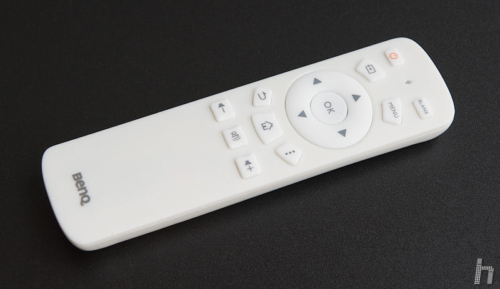 Continues in page 2…