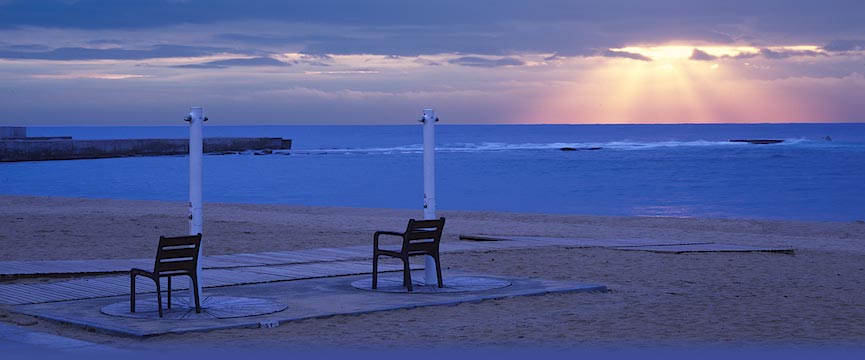 Welcome to my homepage dedicated to photography
Here you'll find an extensive gallery of still-life, portraits, landscapes, snaps and even 3D drawings of cameras. Another important section of the website concerns courses, with a very complete one about the zone-system, another one about the electronic flash, one of the most complete on the web, and one which presents how to calibrate the monitor, to properly set-up Photoshop, printers and various tutorials about PC maintenance. I hope you'll enjoy.
Site news!
[8-5-2004]
- New links about technique: To the Timo Autiokari's web and Xavi Torra's one. Also added Florencio Sanchez's page.
[24-4-2004]

- New Gallery:

Those new photos are maked in past summer, during my travel to Ladakh and the rest of the North of India. Check them!.

[17-2-2004]
- The web is finally on-line!. After two "black" weeks" in wich the f@#$! Ya.com's server become reconfigurated, finally it comes to life. It has needed a lot of calls to the tecnical service, but finally it's done.
[25-12-2003]
- Hugo Rodriguez wish you a happy Xmas and a better 2004!.
[13-11-2003]
- New links to digital photography sites
[9-11-2003]
- WEB in English. From now on, the web also is in English. Although not all, a big part (gallery, about, download and links), and progressively we will translate other pages. I must congratulate to Maud Taylor for all the work she did and does, with effort and desire, because she has been in charge of the translation. You can see information about her here.
[1-11-2003]
- CHANGES IN THE DESIGN OF THE WEB. From now on the Web has logo of own design. The logo symbolizes the harmonic mixture between photography (the gray means), technology (the cursiva), the digital photography (pixels) and its author (the "h" and the "r").
After many hours giving thinking about it, I was able to materialize what I wanted to express with it. I needed to draw more than 65 different ones until giving with the suitable one. From now on, it will appear in everything what is adding (and progressively in which already it has), because it will be the "seal of the site". If you want to update your link to this page or to add it if you do not have it, contact me and I'll send you a logo with the dimensions that you request to me (I have them in several sizes). Also the typography of the buttons of the left and the distribution of the frames of the page have changed, to adapt it better to the new logo and the new types. I hope that you like. Like always, your commentaries will be thanked for.
- Some changes in "About...", in which now I speak just a little bit of the web of Berta Obiols, the one who supports me every day in everything what I do, and makes possible that this web continues growing day by day. I invite you to see her web, because far from being simple, it has a very suggestive design and photos.
[27-10-2003]
- From here I want to make mention to the important renovation in all the senses of the Victor Arias's page, a good friend and excellent artist (whom that would say you take little more of a year into photography). Go and visit it on www.geocities.com/vijargo
[29-9-2003]
- NEW and EXTENDED TUTORIAL. Handling ACDSee 5.01 in Spanish. Again I beat my record: 16 pages where I explain most of functions of this great organizer and viewer of images. Don't miss it.
[26-9-2003]
- New links to some good quality tutorials in Baluma.com (in Spanish).

[22-9-2003]

- New manuals of cameras, this time of the Leica M2, M3, M4-p, M6 TTL and of reflex SL2, R6.2 and R7. The links are in the download section. Thanks to Juanma for the succulent information. May I remind you that in the articles section, you can find an analysis of the M3, M6 TTL and the predecessor of the SL2, the SL (in Spanish).
[7-9-2003]
- Back from holidays and yet begin the new features!. First, the PDF version of my course about the zone-system updated. You don't need to go to Jose Rios's webpage anymore. The problem with the link has been corrected (Ibon, thanks). Note: Until the pdf version is totally downloaded , the link will seem not to work properly... don't worry, just wait till it's completely downloaded, and you'll be able to see it.
- On the other hand, a new table is added to the existing ones: Expansions and compressions. This new table, with suitable dimensions to take in the portfolio, and with an inlaid color profile for the best printing quality, will allow you to know at any time how to process for your photos in black and white. It is essential to know about the zone-system, and to have read my course first to use this table at its best.
[25-7-2003]
- New section of links: Manuals of cameras and lenses. There are directed to the official web pages, alternatives and to stores which sell them by Internet.
- Also is added a new link to an interesting Web focused on cameras Canon EOS, FotoIndice
[24-7-2003]
- Last, the tutorials and courses in PDF version, for you to see them and print them out comfortably and easily.
- A new link to the page of Jose Rios has been added, with a lot of technical information on film development, and my course about the zone-system in PDF version.
- Organized and updated the links section, to pages about photographic technique.
[22-7-2003]
- Added two new links: one to Enric Madrenas's website on underwater photography, es.geocities.com/emadrenas, and one to Pep Masot's site on Canon EOS, www.masot.com/aficions/zonaEOS.htm
[21-7-2003]
- A new tutorial has been added to the already long list of courses: How to optimize the work with Windows 2000 (in Spanish). With this tutorial, the most extensive at now, I show the result after I have spent hours front of the computer: how to save time with it, doing more in less time and with greater control. This tutorial will show you which is the best way to manage your archives, the security of the system, the fastest method to open images in Photoshop, like increasing the speed of the system or how to rename photos in batch, in addition to many other things. I just tried to show here how to be efficient, fast and organized in front of the computer,while working with Word or with Photoshop.
[18-7-2003]
- Added new links: www.fotosyfotografos.com and www.josemanuelrodriguez.com, this last one show some great landscapes taken in Leon.
[11-7-2003]
- I have slightly simplified the tutorial of W98/SE installation, so that now only one diskette is necessary instead of two diskettes of 3.5"like before. Now, in addition, all the command buttons on each page appear in black.
- Added an extension to the tutorial "How to create partitions on your hard disk", about how to put the folder "My documents" and the messages of Outlook Express in a secure place for them not to be accidentally erased while you do that delicate operation. Also added several references to this extension in other tutorials.
[16-6-2003]

- Today it is a special day. This webpage celebrates its 4 years, from the 16th of June of 1999. In order to celebrate it, nothing better than to continue filling it with more information. And for that, there is a new tutorial:
How to install a dual boot (to have two operating systems in pacific coexistence).

[10-6-2003]
- Tutorial on How to install Windows 2000. Here continues the saga of tutorials showing how to use and enjoy your computer better. In this occasion you will see how to settle Windows 2000. If you use W95/98 or Me, surely you're a bit tired of these SOs. The famous XP strikes back. With Windows 2000, you will see that not everything coming out of Bill Gates 's industry is bad (although the truth is that often yes '...). The truth is that Windows 2000 has a little disadvantage: it does not start as quickly as Windows XP, but I prefer it: quicker, trustworthy, safer, etc.
[9-6-2003]
- How to prepare the installation of two operating systems, the following tutorial of the one begun on the 29/5. With this tutorial, you will learn to prepare the hard disk to have two operating systems. And, why that is recommandable. There are many good reasons. First one is security. How would you feel to be able to carry on working as if nothing had happened , only a minute after your operating system just died or after a virus entered your computer. And to be able to leave your children or friends play with it, without affecting any of your programms and documents.
[8-6-2003]
- Added a new link to tutorial: videoedicion.org, one of the best pages on video edition.
- the new counter of visits is more discreet and allows to see statistics of the site.
[7-6-2003]
- Added two new gates: fotocalificaciones.com and ojodigital.net
[4-6-2003]
- Added a new Link to a gate, megapixel.net
- Added a Link to a software to scan: silverfast
- Corrected the formulas of the page of tricks and depth of field.
[3-6-2003]
- Updated the address of the page of Francisco Bernal Rosso.
[2-6-2003]
- Fixed a small problem of styles in the page of connections of Hardware.
- Added a new gate: www.nikonians.org - Fixed the photos of the article of Contax (again a confusion with capitals in the names of the 645 images) and the connection to the personal page of Albert Masó. Thanks, pep.
- Added a new page of really impressive technique page by the quality of its contents: www.normankoren.com
[31-5-2003]
- links to articles have been fixed. It was a problem of capital letters and small letters. Thanks, Javi Alonso.
[29-5-2003]
- Tutorial of installation of Windows 98 and 98SE. With this one begins a serie of tutorials destined to teach how to solve one of the worse problems of an operating system: when it stops to work completly or when it is in its "final stage", that is to say, it crashes constantly, etc. You can see it in the section courses.
- How to create partitions in the hard disk. Did you know that a method, very logical and effective, exists to save backups while you are reinstalling and which remarkably improves the organization of data and security of the system. It is the partitions. It is based on making the operating system think that, instead of having everything (the operating system, the programs and the data) in the same hard disk, it is distributed in several. Thus, aside from improving the organization and security of the system, it's no longer necessary to back-up each time you reinstall.
- Making backups of the operating system with Ghost. You knew that there is a program that can copy the whole operating system, with all its programs, drivers, configurations for "putting it" in a single file, so that the day that you remain "wire drawing", you can take it to reinstall EVERYTHING in 10 minutes. Read this tutorial and you'll learn how to do.